What We Do
About West Tennessee K9
About West Tennessee K9
 West Tennessee K9 – Dog Training and Rehabilitation, was founded by Terry Harris, and is located in Memphis, and now also in Nashville Tennessee. Voted top trainers in Memphis, we are dedicated to helping both dogs, and their owners navigate the challenges of life.  We offer puppy foundation programs, basic obedience, advanced obedience, E-Collar training, aggression rehabilitation, and behavior modification. 
 Dog training is more than teaching a dog to sit, stay, lay down, and come. Dog training is about leadership and relationship. Whether you need general through advanced obedience, or behavior modification, it is likely that West Tennessee K9 has a program to fit your needs and budget. We keep everything super simple and easy to understand. Our primary goal is to help people and by doing this, we help dogs. 
If you would really like to get to know us, spend some time here on our website, as well as all of our social media pages. The links are on every page! We have tons of free and helpful "how to" content and videos that will help you right away! 
WHERE WE STARTED
 Founded in 2013, West Tennessee K9 has quickly grown into the Mid-South's, top-rated dog training facility. After starting as a home-based business, the demand for our services allowed us to transition into our 4,000 square foot facility. Don't think that a large facility means more dogs. In fact, the dog to trainer ratio has decreased over time. Focusing on quality, and not quantity means, as we have grown, we have improved.
 WHY WE DO THIS
 The true formula to our success really has little to do with our facilities, though. In 2015, it was clear that we could not touch every dog of every person that contacted us. So, what did we do? We made the decision to put everything we do out there for free. We utilized platforms like YouTube, Facebook, and Instagram to help more people through free content. This may seem counterintuitive and go against every marketing concept out there, but we didn't care. There were people who needed help, and now they could get it.
 FORMULA FOR SUCCESS
 Focusing on teaching and equipping people is what we do. It is great to have a trained dog, but without training the owners, the training doesn't do much good. Through our online content, go home training instructions, and videos, our success rate soars above the rest. Take some time and check us out on Facebook, YouTube, and Instagram. Read the comments and reviews. See what everyone is saying and see if we are a good fit for you!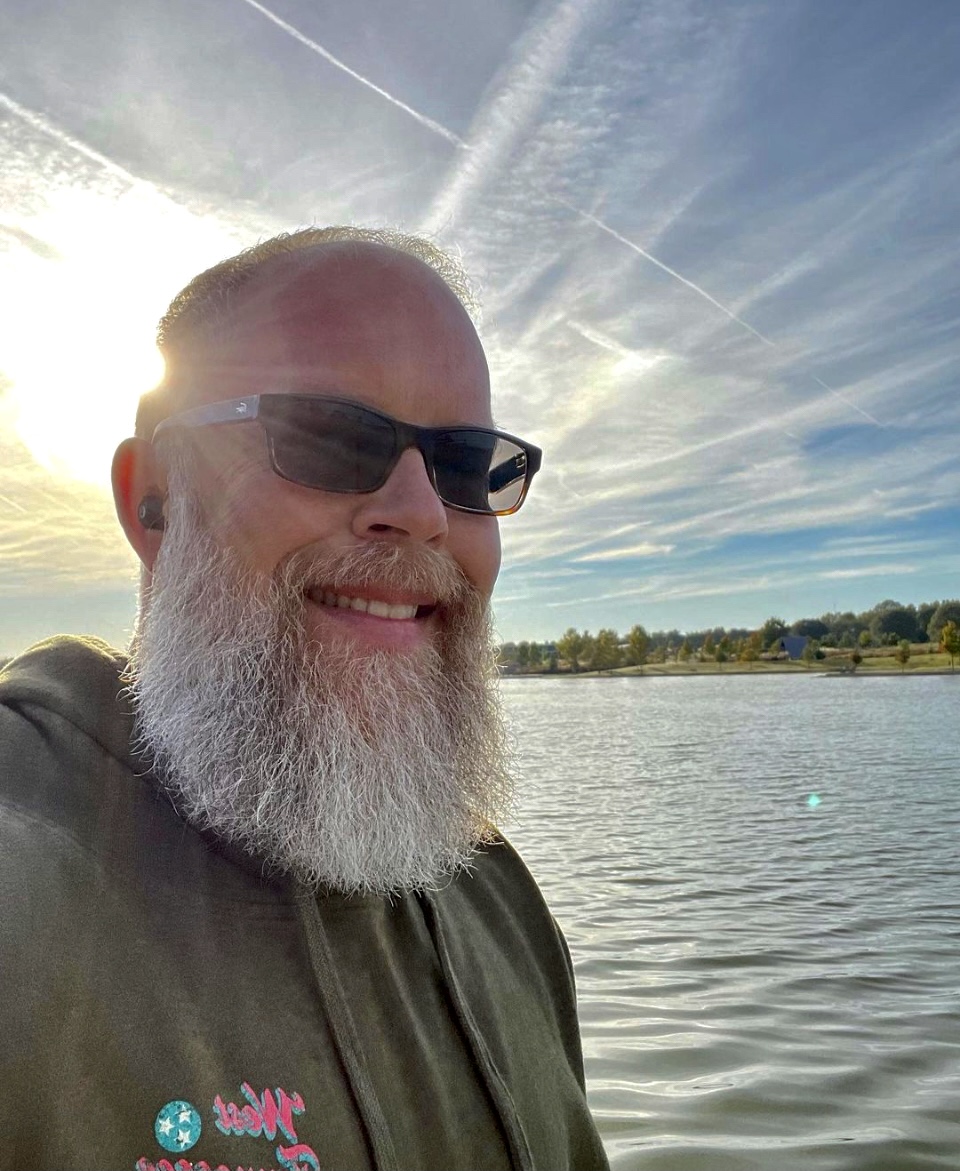 Meet the Owner
Terry Harris
Hello, I'm Terry Harris, founder of West Tennessee K9. As a child, my love for training animals rose up above everything else. Training animals has always been a natural gift. Working with dogs, birds, rodents, horses, and about any other critter I could find was, in my mind, a 30 year hobby. I understood animal behavior, and how to change it. In 2014, with the encouragement from my then best friend Olivia, I put the word out that I was going to be training dogs for others. By the next weekend and to my surprise, I had 8 dogs at my house for training. I was completely taken aback at the need people had. These dogs were causing so much stress in their homes; stress that the owners didn't have to live in every day. I saw a need, a need that I didn't even know existed.
After all of these dogs went home, I had to take a little time to rethink everything. I knew how to train, but I didn't know how to communicate what I was doing to the owners. I spent a year seeking out the best and brightest in the dog and animal training world. I traveled and spent time with them, learning and growing. The welcome I got from everyone I contacted was overwhelming. To this day, I become overwhelmed with emotion just thinking about it. 
In 2015, I officially started West Tennessee K9. From day one, there has always been dogs to train and people to help. I quickly realized that dog training was less about the dogs, the easy part to me. It was more about the relationship and trust built with the dog's owners. From day one, I adopted a no judgement policy. Regardless of the dog's problem, the owners are never blamed or shamed. I committed to meeting the dog and the owner exactly where they are, building from there. From 2015 to present, the growth has been amazing. What I thought was going to be a session by session career has grown into something I never could have planned. The outpouring of love and support by clients and other training professionals has been a blessing, to say the least. Because of this support, we have been able to help thousands of dogs and owners. In about 4 years, we have grown from a house to house, private session company, to a 4,000 square feet, fully staffed training facility. Our abundance of free, online content is helping people all over the world. We have received testimonials from India, the UK, Australia, and many other places. Technology has been such a blessing to us, our followers, and clients. The people's love for their dogs is amazing.
Training dogs has allowed me to meet so many wonderful people. It has also allowed me to work every day with my, now wife Olivia, and daughters Chelsey and Emily. Spending all of this time with my family as we help others, is a dream come true. Helping people is what we, as a family, love to do.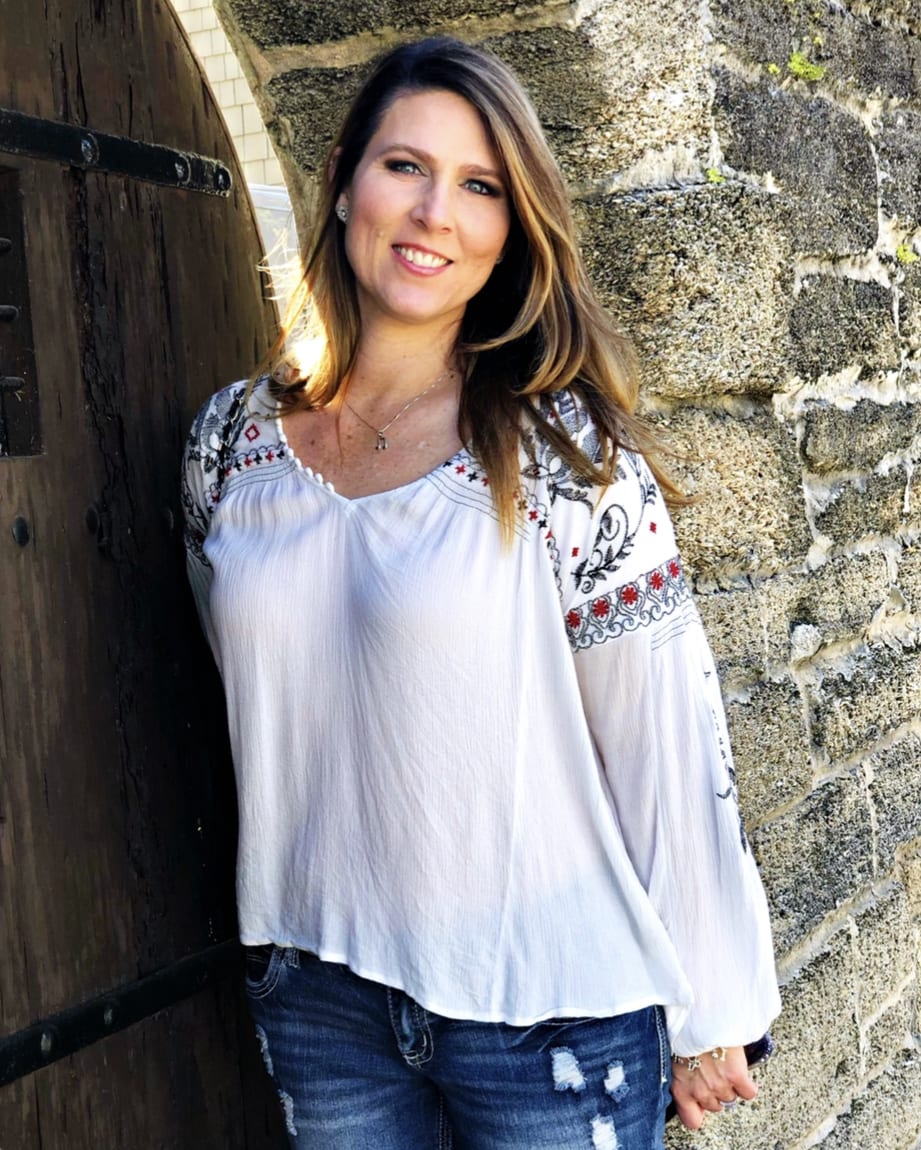 Meet the Owner
Olivia Harris
Olivia is a critical part of West Tennessee K9's programs. In addition to hands-on dogs training, Olivia is the behind-the-scenes organizer. Olivia oversees all free social media content, quality, and distribution. There isn't a part of WTNK9 that she doesn't have a part in.
Olivia has a solid background in leadership. Managing several companies and departments, over the past 25 years, makes her insight and wisdom incredibly valuable to the business and programs. Olivia and Terry, together, bring a balanced approach to every aspect of West Tennessee K9. Olivia may be in the background here, but in life, she is at the forefront. Olivia is an extremely talented musician and singer. She performs on a regular basis here in Memphis. Her love for music and her creativity allows her to have a unique and positive perspective on life and the problems associated with it.
Over the years Olivia has worked with and mentored young people. She has molded so many young musicians, giving them the guidance and confidence to grow into talented, performing adults. Olivia's love for children and young people has translated into our training program. Children are always welcomed at the training center. Because of her vision and calling for youth, children and young adults learn how to handle the family pet, as well as mom and dad.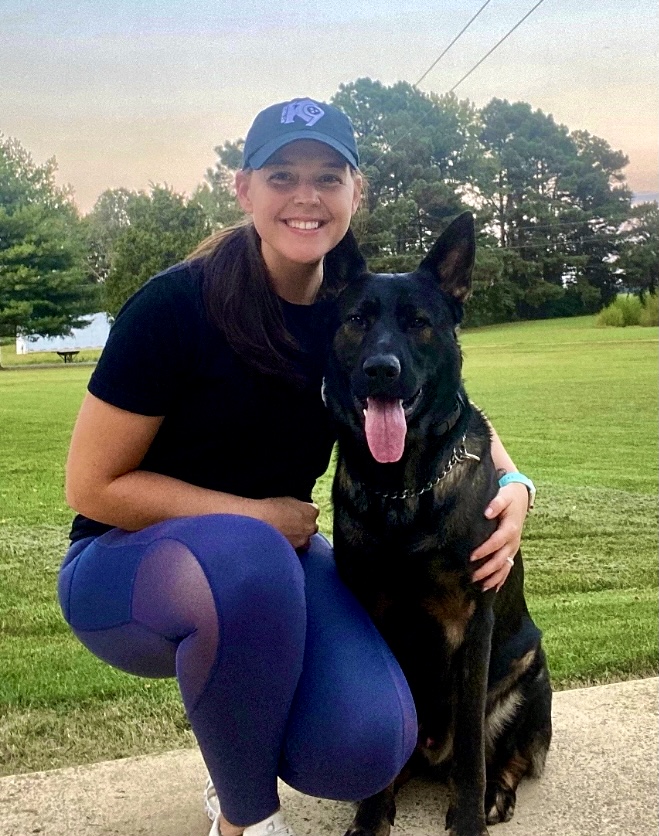 Meet our facility manager 
Taylor Bouchard
Taylor is our facility manager. It's fair to say that she is Terry's right hand. Nothing happens at the training center that Taylor doesn't know about. We met Taylor about 6 years ago, while she was working at Hollywood Feed, a local pet store. After she moved on to a new job, we stayed in touch. Taylor is our organizational guru! Taylor touches every part of the business, every day. Everything from employee and dog scheduling, keeping everyone trained on our computer programs, ordering supplies, and so much more. She truly has a hand in everything. In addition to her amazing managerial skills, she is also a really good dog trainer. She helps with teaching our staff trainers the ins and outs of dog training. In the area of dog training, I would say that her real strength is doing our go home sessions. She is a very good communicator and makes the clients feel comfortable while she is giving instruction.
Taylor has three pups, one of which came through out training program a few years ago. She will tell you her dogs are her children, and it shows. An upside to working at a dog training facility is you can bring your dog to work. We always look forward to seeing her pup! She has put a lot of work into him, and it shows. In addition to dog life, she also enjoys jeep life. Yes, she is a jeep AND a dog girl, so you know she must be ok.
 The last thing I will say about Taylor is that she is very compassionate. One of the primary reasons she became such an incredible part of the team is because she truly cares about people and their pets, as much as West Tennessee K9's founders.  She not only cares for our clients, but she also cares deeply for each staff member. Taylor is always going the extra step to assure that everyone, people and dogs, receive all the attention, care and support they need.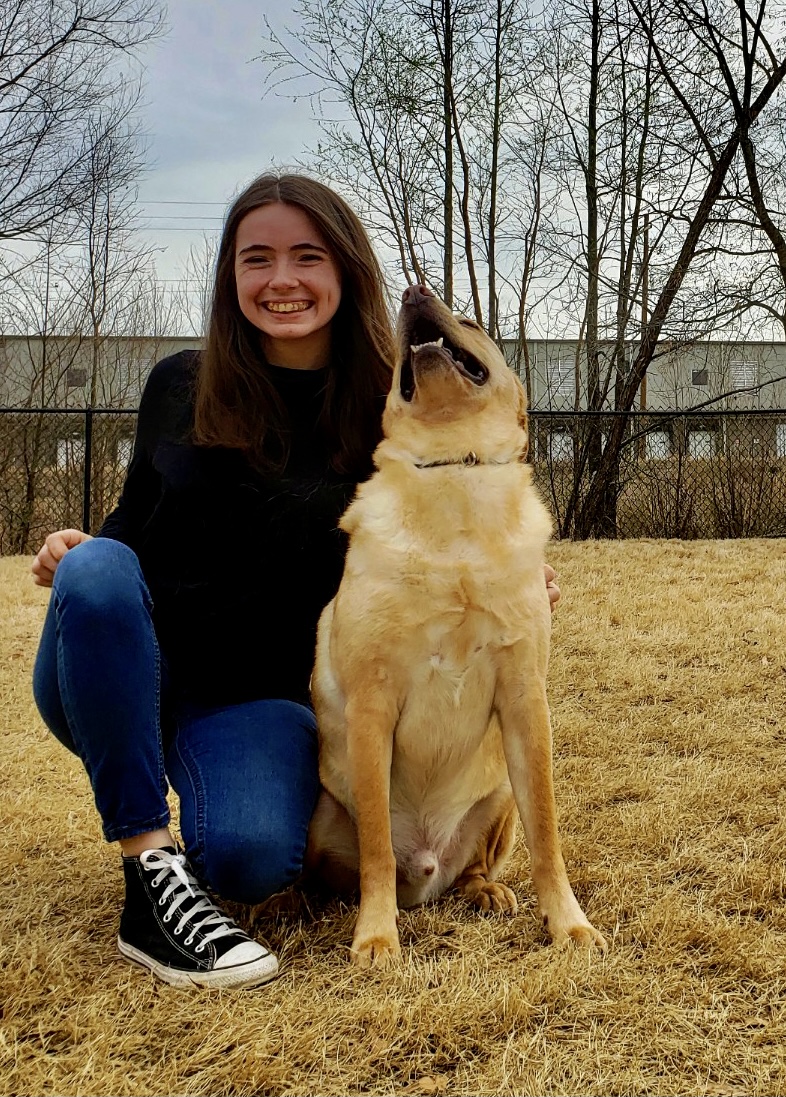 Meet our kennel manager and head trainer  
Devi Balentine
Some people are natural leaders and Devi is one of those people. Devi is by far our smallest staff member, but that doesn't hinder her at all. On a daily basis, we will watch her take the biggest, most unruly dog, and have them under control in minutes. I believe this a direct result of her ability to lead.
Devi came to us, primarily with dog kennel and care experience, but it didn't take long to see that she had some intuitive dog training/handling  skills. Dog training is largely about leadership and communication, two areas in which Devi excels. She has a way to tune in with and motivate the dogs. She has a very positive training style, but she doesn't allow the bratty dogs to push her around.
Devi has a way of not only motivating dogs, but she is also a natural people motivator. She is our kennel manager and head trainer. Every day she assures that every dog is taken care of. The dog's care, health, and well-being are definitely the most important thing to her. One of her primary roles is staff training and schedule management. Daily, she pairs dogs up with trainers, schedules outings, and evaluates each dog's progress.  
Another huge part of her role here at West Tennessee K9 is go home, private, and follow up sessions. Devi has a unique, low-pressure way to communicate hard truths. She is very good at explaining the whys of things and doing so in a way that's really easy to understand and apply.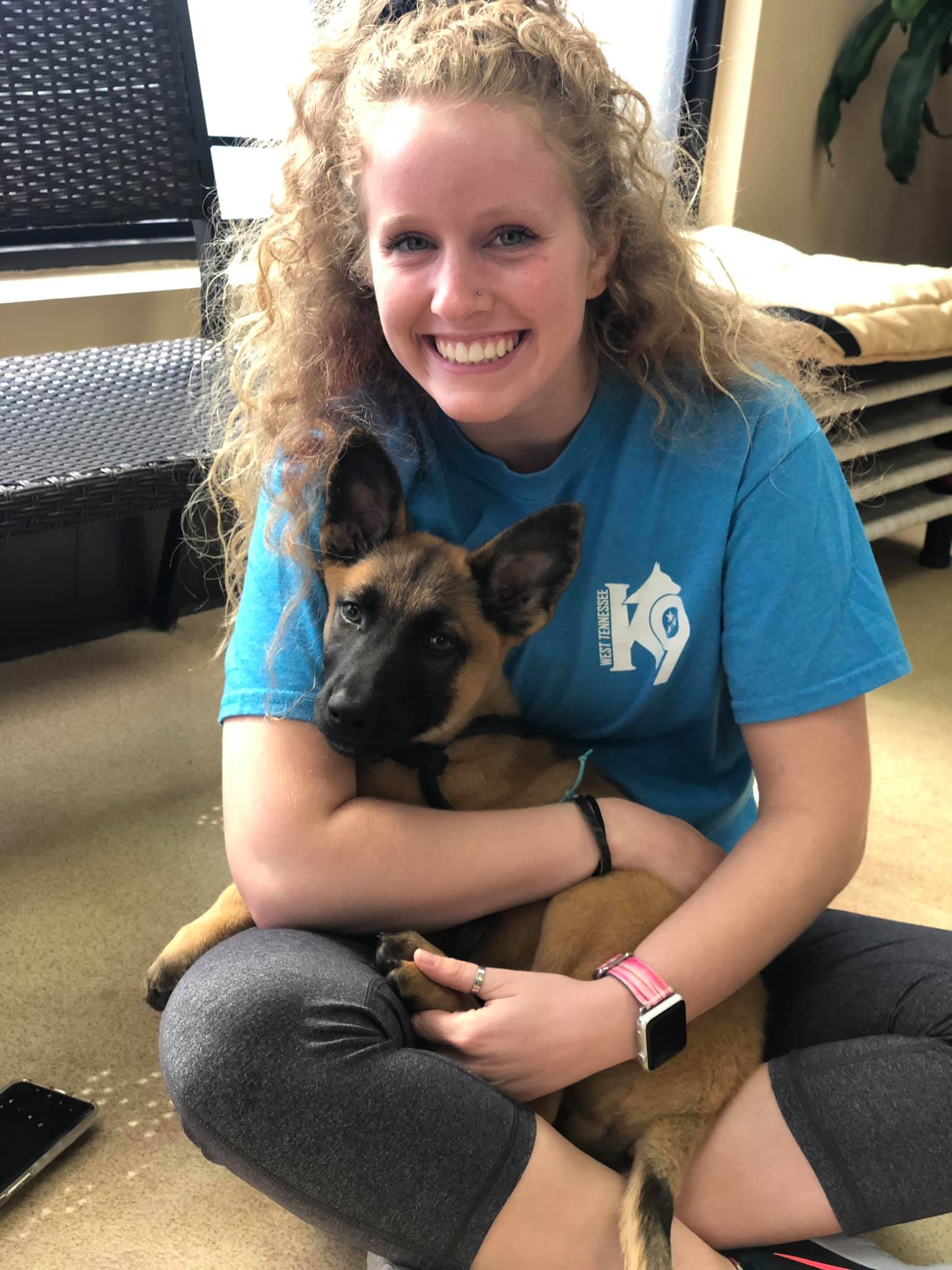 Meet our hr director and owner of West Tennessee k9 nashville
Chelsey Harris
Chelsey is a trainer, admin coordinator, and organizational guru. Chelsey does private sessions, works with board and trains, and assist Terry in many areas of West Tennessee K9. She handles all of the staff scheduling, and operations protocols and guidelines.
Chelsey graduated from Central Michigan University with two degrees; an Associates in Liberal Arts and a Bachelors in Psychology. After college, Chelsey worked at Youth Villages as a counselor and events coordinator, and with us on her off days. She quickly saw how dealing with human behavior and animal behavior were very similar. She made the decision to transition full time with us, and what an asset she has been. She hasn't given up on her work with humans though. She also works with troubled individuals using horses, reptiles, and other animals to assist in their rehabilitation.
Chelsey's understanding of behavior, love for animals, and most importantly love for humans makes her and amazing trainer and leader.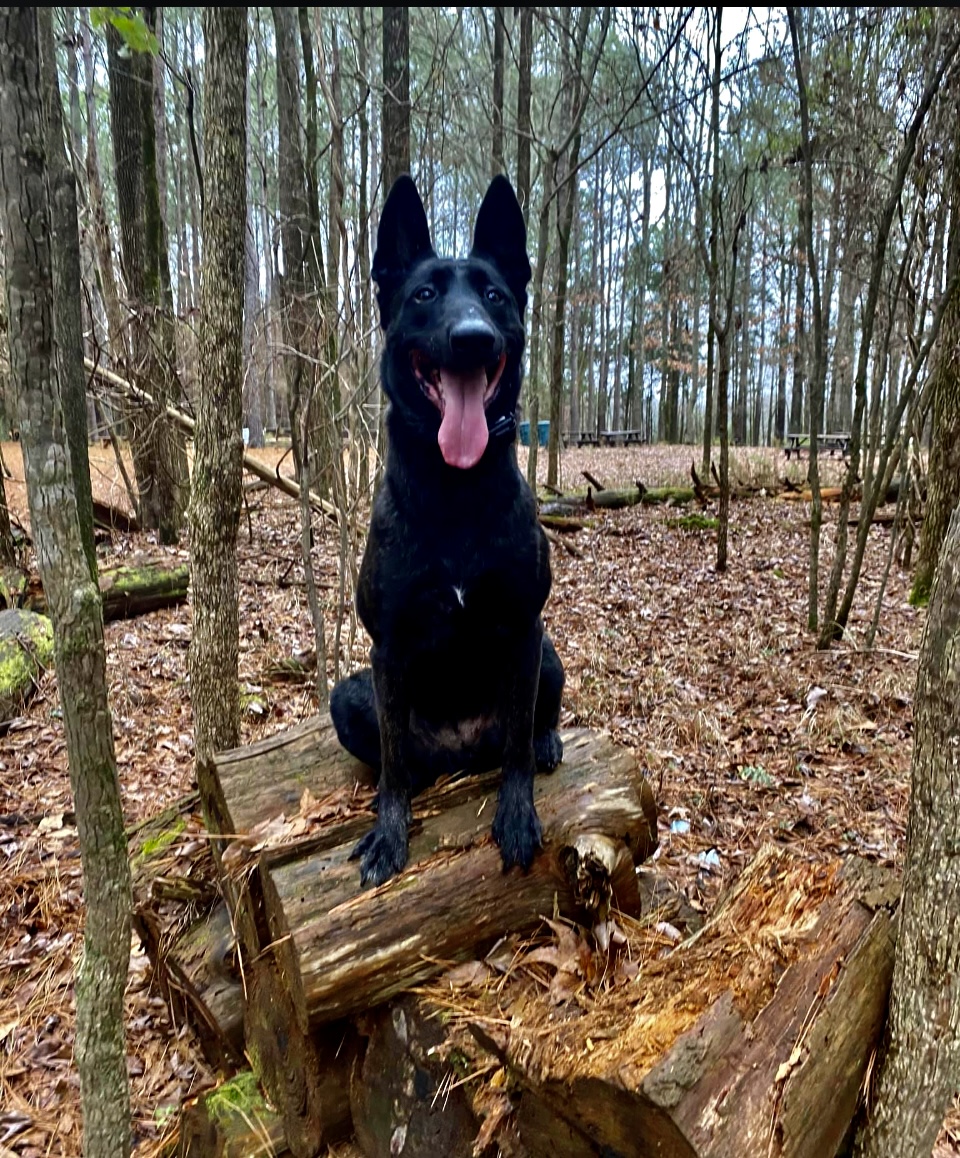 I couldn't let you meet the staff without introducing our most valuable member. I often refer to her as the best, worst dog I have ever had, and after you meet her, you'll understand. When you come in, you will see her photo showcased as the Employee of the Month, and it's true, she does work hard. You will also likely see her playing in the front training area with two balls; one in her mouth and one she bats around, like a cross between a cat and a professional soccer player. It's pretty entertaining to watch.
Layla's life began as my detection dog. If she knows the smell, she will find it. Soon after I finished her training, my life and business took a huge turn. What started out as a private security company, the pet dog world quickly took over. There was such a need to help folks deal with their unruly dogs.
Immediately, I saw a need to have a dog that could get training dogs to act out, without paying them any attention. Layla was definitely that dog. All the time I put into handler focus was paying off. After running her through several sessions and teaching her what to do, Layla quickly joined me in every session. No matter how hard the other dog was coming at her, she would never lose focus. This became her new job, and she is very good at it.
Layla allows us to work with general arousal and reactive dogs, in a very controlled environment; allowing the owner to practice controlling their dog before real life presents itself. Layla is responsible for assisting in the rehabilitation of more dogs than I can count. She has also been in several films and commercials, making her the most famous member of our team.